My NTP Servers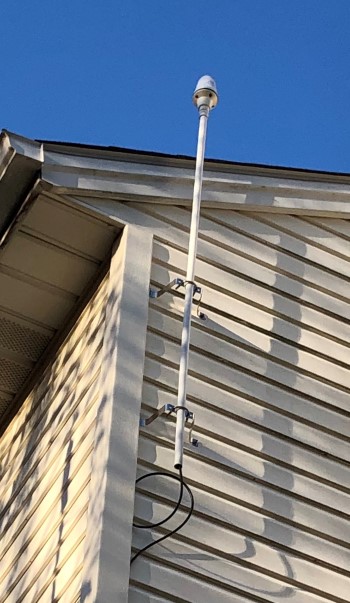 There probably aren't many GPS antennas on completely stationary suburban single family homes out there...
I run various stratum 1 NTP servers at home. In the past I used Soekris SBC's. They made for excellent NTP servers, but they are long discontined and most recent O/S's will not run on them without a fair amount of challenge. I now use Raspberry Pi's. At the moment (Oct 2022), these include:
tick
Hardware: Raspberry Pi "B" v2, Adafruit GPS board
Software: Raspbian, GPSd, NTPsec, shm reference driver
tock
I also have two commercial devices - a (very old) Spectracom 9183 and a CenterClick NTP200. All are fed by a single active Symmetricom GPS antenna (mounted just above the roofline, see right) and a 4-way splitter.
But why?
Why not?
Build notes
Note: These notes are based on older versions of Raspbian and may need tweaked. Also, for modern devices (Pi3 and above), you'll want to disable bluetooth and enable GPIO serial.
Add to /boot/cmdline.txt:

nohz=off

Enable PPS by adding the following to /boot/config.txt. Pin 18 is the 6th over on the top row. The third pin is ground. 3.3v logic

dtoverlay=pps-gpio,gpiopin=18

Install necessary packages:

sudo apt install cpufrequtils pps-tools git scons libncurses-dev python-dev bc bison libcap-dev libssl-dev libreadline-dev

Add to /etc/default/cpufrequtils:

GOVERNOR="performance"

Disable unnecessary services:

for i in systemd-timesyncd avahi-daemon alsa-state bluetooth triggerhappy hciuart rng-tools autologin getty;
do
   systemctl disable $i.service; systemctl stop $i.service; 
done

Add to /etc/udev/rules.d/10-pps.rules (replace ttyACM0 with actual serial port of gps:

KERNEL=="ttyACM0", SYMLINK+="gpsd0"

Build gpsd:


git clone git://git.savannah.nongnu.org/gpsd.git
cd gpsd
scons timeservice=yes nmea0183=yes ublox=yes gpsdclients=yes python=yes fixed_port_speed=9600 fixed_stop_bits=1
sudo scons install


Build ntpsec:


git clone https://gitlab.com/NTPsec/ntpsec.git
cd ntpsec
./waf configure --refclock=shm,gpsd,pps
./waf build
sudo ./waf install


Add ntp user and group:


sudo adduser --system --no-create-home --disabled-login --gecos '' ntp
sudo addgroup --system ntp
sudo addgroup ntp ntp
sudo mkdir -p /var/lib/ntp /var/log/ntpstats
sudo chown -R ntp:ntp /var/lib/ntp /var/log/ntpstats


Add the following to /etc/default/gpsd:


OPTIONS="-G"
DEVICES="/dev/gpsd0"


Grab sample /etc/ntpd.conf from here
Grab unit files from here and put them in /etc/systemd/system
Links